The one sheet poster for the forthcoming Marvel Comics adaptation
THE INCREDIBLE HULK
has been revealed. Starring Ed Norton and Liv Tyler, the movie is certainly looking like a better prospect than Ang Lee's decent but somewhat misguided version, and the poster looks pretty cool. Check
it out: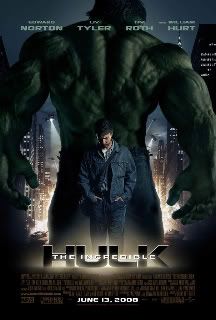 The feel of this version of the Hulk feels a lot closer to the rest of the Marvel movies that have been released. Hell, even Elektra felt more like it took place in the Marvel universe than the first Hulk movie. Boasting a great cast and what appears to be some very admirable effects, the
Incredible Hulk
is gearing up to take on the world alongside the
Iron Man
movie. It's weird- I don't really see these two movies as being against each other at the box office. It really seems a case of the two of them working alongside each other in order to fill seats with Marvel Comics fans old and new.