Well the goodies (no, not Bill Oddie and Co...) keep on coming thick and fast from the House of Ideas. Their domination of the comic book movie genre continues with the news of the latest IRON MAN trailer, that is going to hit at the Superbowl and then online. I'm looking forward top that movie with interest- Mr Stark and his shiny suit aren't really the biggest name on Marvel's roster, and thus it'll be cool to see how the public at large takes a shine to him. Hopefully they'll find him more palatable than they did with Johnny Blaze...
Oh, and have any of you spotted the 25 LOST references in current Marvel books? No, me neither...
The big news in comics this week is the (inevitable) return of Captain America. Well, we all knew it would happen sooner or later. The thing is, despite my cynicism about the whole thing, I'm really quite pleased that Marvel chose to go with Bucky as the new Cap. It's a brave move to put a bit of a psycopath in the role instead of resurrecting Steve Rogers somehow. Mind you, we may have a bit of a KNIGHTFALL thing on our hands here- Bucky is looking very violent as the new Cap and Steve may well be brough back in to clean up Cap's name. We shall see.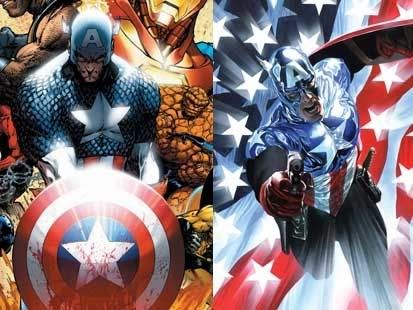 As you can see, the new Captain America doesn't look quite so wholesome as the original...